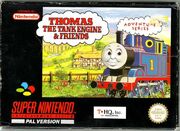 Adventure Series was released for the Super Nintendo Entertainment System in 1993. It was also released for the Sega Genesis with different gameplay. It was developed by Software Creations and published by THQ.
Difficulty
After the title screen, you're given the option on what difficulty you want to play. Besides how easy or hard you want to play it. The only major difference is that you get an extra story, but with no narration track.
Characters
Minigames
The Sliding Puzzle
Setting the Switches
The Jigsaw Puzzle
Let's Race Bertie, Percy or James!
Fixing the Tracks
Let's Go with Thomas!
Thomas's Quiz
The gameplay lets you move the glove cursor to select what you want to do. It is possible this was meant also for the SNES mouse.
Trivia
An 8-bit version for the NES was to be released based on the gameplay of this release. It was cancelled before it could be released (for unknown reasons), but was finished and leaked on the web.
Goofs
One of the interactive parts on "The Great Race" has Harold, but he wasn't in the story, and he is too short.
In the racing level with Percy, his wheels are red.
In "Thomas, Percy, and the Mail Train," Thomas is taking Annie and Clarabel instead of Mail Coaches.
Gallery
Ad blocker interference detected!
Wikia is a free-to-use site that makes money from advertising. We have a modified experience for viewers using ad blockers

Wikia is not accessible if you've made further modifications. Remove the custom ad blocker rule(s) and the page will load as expected.