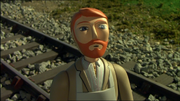 Abbey is a station on the Peel Godred Branch Line, named after the nearby Cronk Abbey. It solely services the nearby school, and is only staffed at the beginning and end of school terms. Abbey station first appeared in the television series in the ninth season and last appeared in the eleventh season.
Trivia
A statue of the Steam Team is in a park near the station.
The repair shop is situated near Abbey.
A library was opened here in the eleventh season.
In the ninth season, the station model was really a modified one of Maron.
Merchandise
Gallery