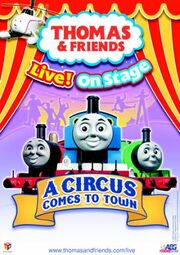 A Circus Comes to Town was a live stage show produced by HiT Entertainment and AEG ThemeStar in 2009.
Plot
When Thomas makes a big mistake, all of the engines on the Island of Sodor must work together to prepare for the exciting event under the Big Top and Thomas must prove he is a really useful engine once again. With thrilling adventures along the way, Percy, James, Gordon, and Thomas join with Sir Topham Hatt and the townspeople from Sodor to welcome a colourful cast of circus performers in an engaging story that demonstrates the importance of friendship and cooperation.
Characters
Miranda the Acrobat
The Strongman
Trevor (cameo)
Bertie (mentioned)
Songs
Another Busy Day For the Engines
It's Circus Time on the Farm
Fun in the Rain
Trivia
Individual voice actors (including Ben Small and Keith Wickham) provide the voices for the engines.
This show marks Kuffy's only speaking role to date.
Gordon and James do not properly come out of the sheds. The likely reason is that it was too expensive to make working engines, as well as them being too big for most auditorium stages.
Goofs
In some of the individual performances, Percy has James' whistle sound.
In some of the individual performances, you can hear James' whistle right before he comes out of the shed.
Some of the Fat Controller's actors have very visible hair, whereas the Fat Controller is bald.
Gallery