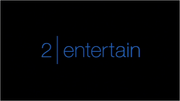 2Entertain was a British video and music publisher. It was formed when VCI merged with BBC Video. They were responsible for almost all the Thomas and Friends DVDs in the UK released between 2006 and 2008, until their licence to distribute the DVDs had ended. HiT Entertainment took over this position, beginning with The Complete Eighth Series.
Releases
Ad blocker interference detected!
Wikia is a free-to-use site that makes money from advertising. We have a modified experience for viewers using ad blockers

Wikia is not accessible if you've made further modifications. Remove the custom ad blocker rule(s) and the page will load as expected.