040 BMC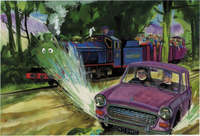 When the Thin Clergymen and the Fat Clergyman visited the Arlesdale Railway, they drove a purple car with the number plate "040 BMC". At one point they accidentally drove through a puddle and muddy water splashed onto Bert while he was pulling a passenger train.
The car is based upon a Mark 1 Austin 1100. The letters "BMC" on the number plate are a reference to the British Motor Corporation, the manufacturer of the vehicle in question.
The car only appeared in the twenty-second book of The Railway Series, Small Railway Engines.
Gallery