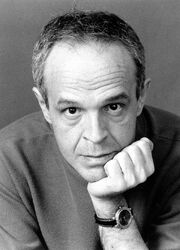 Ángel Amorós is a Spanish actor who voices characters in the European Spanish dub of Thomas & Friends.
He is most famous for voicing Nearly Headless Nick from the "Harry Potter" films, Tubbs Pacer from "Cars 2", Hibiki Seigou from "Inazuma Eleven", Zeus from the "God of War" series, Dunbar from "Chuggington", Lugnutz and Soundwave from "Transformers: Cybertron", Skyquake and Dreadwing from "Transformers: Prime", Doc Q, Shura, and Zenny from "One Piece", and Yoda in both "Star Wars Rebels" and "Disney Infinity 3.0". Other dubbing credits include "The Simpsons", "Family Guy", "Boardwalk Empire", "Game of Thrones", "Pokémon", "Call of Duty: Black Ops", the "Gears of War" series, the "Assassin's Creed" series, "Halo 3", and many others.
Voices
Trivia
Ad blocker interference detected!
Wikia is a free-to-use site that makes money from advertising. We have a modified experience for viewers using ad blockers

Wikia is not accessible if you've made further modifications. Remove the custom ad blocker rule(s) and the page will load as expected.