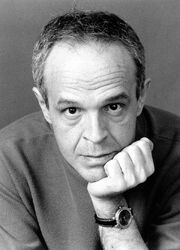 Ángel Amorós is a Spanish actor who voices characters in the European Spanish dub of Thomas & Friends.
He is most famous for voicing Nearly Headless Nick from the "Harry Potter" films, Tubbs Pacer from "Cars 2", Hibiki Seigou from "Inazuma Eleven", Zeus from the "God of War" series, Dunbar from "Chuggington", Lugnutz and Soundwave from "Transformers: Cybertron", Skyquake and Dreadwing from "Transformers: Prime", Doc Q, Shura, and Zenny from "One Piece", and Yoda in both "Star Wars Rebels" and "Disney Infinity 3.0". Other dubbing credits include "The Simpsons", "Family Guy", "Boardwalk Empire", "Game of Thrones", "Pokémon", "Call of Duty: Black Ops", the "Gears of War" series, the "Assassin's Creed" series, "Halo 3", and many others.
Voices
Trivia
Both he and Takeshi Aono voiced Bookman from "D.Gray-man" in their respective languages.
Both he and Masaharu Satō voiced Gargoylemon from "Digimon Fusion" in their respective languages.
Both he and Salty's Lighthouse voice actor Scott McNeil voiced Peddler from "Barbie of Swan Lake" in their respective languages.